A while ago GCE accepted our first member from Japan, mr Tadashi Nakayama from Ichinomya-city (north of Nagoya-city). I was very surprised to know that actually the GTR was sold in Japan. Later I learned that only imported GTR´s is sold in Japan.
I started to communicate with Tadashi-san (in japanese to his surprise) and he was responding in oth english and japanese.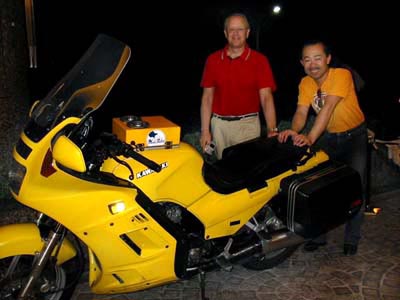 Since that moment I decided to meet him in Japan - if I got the chance to travel to Japan. To go there privately is out of the question - just too expensive! I had been to Japan before, last year in my work - so I just hoped to have another chance to go there.
And, can You believe how surprised I was when I was asked to go again this
autumn. ;-)

Hurriedly i mailed tadashi-san that i was coming to Japan this autumn and mentioned that I wanted to meet him if it was possible. I was very welcome and visit his home.

The business comes first and i turned out that I had the chance to see him a few hours on friday afternoon, october 11th, in the town Gifu-city. We arranged to meet at my hotel at 1600 hrs. Tadashi-san is fortyish and runs a musicshop in his town. He came to the lobby and we was very happy to meet each other. We went to the bar and had a long chat about GTR´s pro and cons, other bikes. Tadashi-san have own many bikes. I received two nice booklets, Kawasaki I and II - world mc guide, but they didn´t cover the GTR ;-(.
Any way they are very good and I treasure this booklets very much. I handed over the black "GTR club of Sweden" T-shirt as a small present together with a pair of stickers - I hope he have put them on his beautiful yellow GTR.
After a while we went out of the hotellobby to have a look on his bike and have some photos taken. Please look at the attached photos. Since Tadashi-san is a musiclover he have decided to listen to the music live instead of through earphones - so he have constructed a music box which is fastened with snaplocks. Very, very nice sound ;-) He says it works well over 160 km/h. I hadn´t any riding gear with me from Sweden - so I didn´t take the chance of a spinn with his bike ;-(
As You can see on the photos Tadashi-san is a short person - so the GTR looks huge when he sits on it, and we all understand that he have complimentary skills to handle it.
Finally after two hours of instensively chatting it was time for Tadashi-san to go back home to his family and me to meet my travelcompanion for dinner.
I enjoyed meeting Tadashi-san and if I have the opportunity to visit Japan again I will most certainly go and visit him again.
Perhaps Tadashi-san can gather other GTR owners in Japan and make another area - who nows what the future will bring ;-)
Hans
Proud owner of the 1994 Kawasaki GTR 1000 "Absolut kiai"
Chairman GTR Club Europe
IBA #10258
COG #3465 - GCE #1- Sweden
---