We had some traditional lunch at 1500hrs at a local restaurant in Granby – the town is famous ´cause some years ago a guy stole a tank and rode it into town! The restaurant served German food, but the waitress couldn´t speak anything even if Rick tried some;-( We continued south on rte 40 and headed for the twisties on higher speed - whooooaaaaa – this was the first time for me to ride at such a speed (safe) - what a ride!!!!!
We passed Berthoud pass on high speed…….and suddenly the fun ended when we arrived into Empire town.

After a short ride on the hwy 70 we hit the gravel road in Idaho Springs and we went upwards and upwards towards Central city. Central city looks nice with it´s old brick houses but they are now turning the city into a huge casino place. We continued north on rte 119 and rte 72 – and we had a very nice ride back - whooooaaaaa - to Ricks place in Lyons.


The dinner ended late and Phil Tarman rode back to his home in the dark.
Friday morning - Rick sent me off at Denver airport - thanks Rick, friends and neighbour, what a day – Rick; You are da man;-)))))
Friday evening – stayed in Long Beach, quick shower after work - had the rent-a-car.....brand new chicken yellow Ford MUSTANG conv (I just said I was a lucky guy - usually I´ll get a small Ford, Hyundai yada, yada) - and drove to Thousand Oaks, close to Los Angeles to team up with Linda and Lisa Stephens. In the evening we got hold of Harry Martin by phone – he wanted to join the ride.
Saturday, July 2nd

Early morning in the sunshine – Linda and I went to Simi Valley to pick up Harry Martin (on short leave from work and home) and Lindas husbands Peters silverdammit that would be my companion me for free - thanks - during the day. We went straight on to route 150 - passed Ojai - and on to route 33 with the twisties on good speed - whooooaaaaa - what a ride. Such desolated place and such nice scenery - great roads for a bike - as we noticed, my left wink wink arm got a bit tired...;-)




After awhile we turned right – into the Ventura – towards hwy 5 – same nice roads, desolated and warm - suddenly, somewhere in the middle of nowhere we had a ad hoc tech session for an hour at 1200hrs - full sunshine, no shadows - main fuse blown on my bike. With Harrys help we opened the J-box, followed the W/BK wire - located a short close to the dashboard - we isolated it and voila, the bike fired up again - damn, that was a hot place - thanks Harry, You da man! (We do understand the importance to bring the circuit scheme - next ride;-)))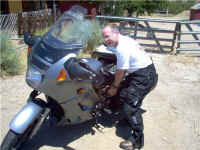 Ah, well - we went straight to the gas stop close to the hwy 5 – rested a bit (soft drinks and shadow). From the Tejon pass we had a speed run on the hwy – took to the left at Wheeler Ridge and rte 223 towards route 58 on real good speed - whooooaaaaa – such flat and dry place - what a sweaty ride with all protection gear.


Uneventful ride to Tehachapi and we stopped to watch a looooong freight train passing the Tehachapi loop (railway nerds dream) - what a spectacular sight!
After some rest and a lot of cold root beer at Linda´s place we decided to take the fast run back to Simi Valley. Riding south on hwy 58 we could see the big windmill farm at the Tehachapi Mountains – what a sight – passed over the Tehachapi pass and headed down hwy 14. The sun was setting, traffic was picking up - the highway is also a great experience>LOL<
We headed into hwy 118 and finished with some twisties – Santa Susana Pass road - just before Simi Valley - awesome!


Saturday evening - had the rent-a-car.....brand new chicken yellow Ford MUSTANG conv - and together with Linda and Peter we drove - open - to a nice restaurant for a late supper - great steaks! - then I went to my hotel (54 minutes.....) in Long Beach.
Thanks Linda, what a day. You da man!....??????Woman!;-)